FRIENDS ONLY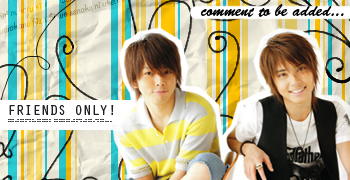 FO banner by
starmuffin_news
♥
Layout by
mentahelada
♥
New layout, may change the header but I was tired of it not text wrapping on the main page and I couldn't figure it out!
So this is friends only so that robots/random people stumbling on my LJ don't make me lose my job 10 years from now! Good news is that it's pretty easy to become my friend, you just have to be human and not...evil? :P
My lists!
My anime list
/
my manga list
Last.fm: sister_rosette
My Asian drama list
My journal is mostly me rambling about real life or fangirling about stuff!
...Still interested? Comment below or something and I'll add you :D
Current Mood:
geeky